Annual Meeting Mobile App
NAPCRG is pleased to announce an updated interactive smartphone app for our 51st Annual Meeting. Please note that this will serve as your primary guide to the conference.
A native app is available for iPhone and Android, a hybrid web-based version for BlackBerry, and a web-based version for any smartphone that has web-enabled browser capability. With its many useful year-round features, app users can:
Review sessions and add them to your calendar

Search for exhibitors and Download exhibitor brochures

Stay in-the-know with program alerts and much more!
It can be downloaded HERE
---
Upon first opening the app it will ask which conference you want:
Select the upcoming conference for "NAPCRG 51st Annual Meeting."

It may ask you to "download" the meeting. This is normal and is for downloading any updates that have been made to the meeting.

After downloading/updating the meeting to the latest version you will then be taken to the home screen.
---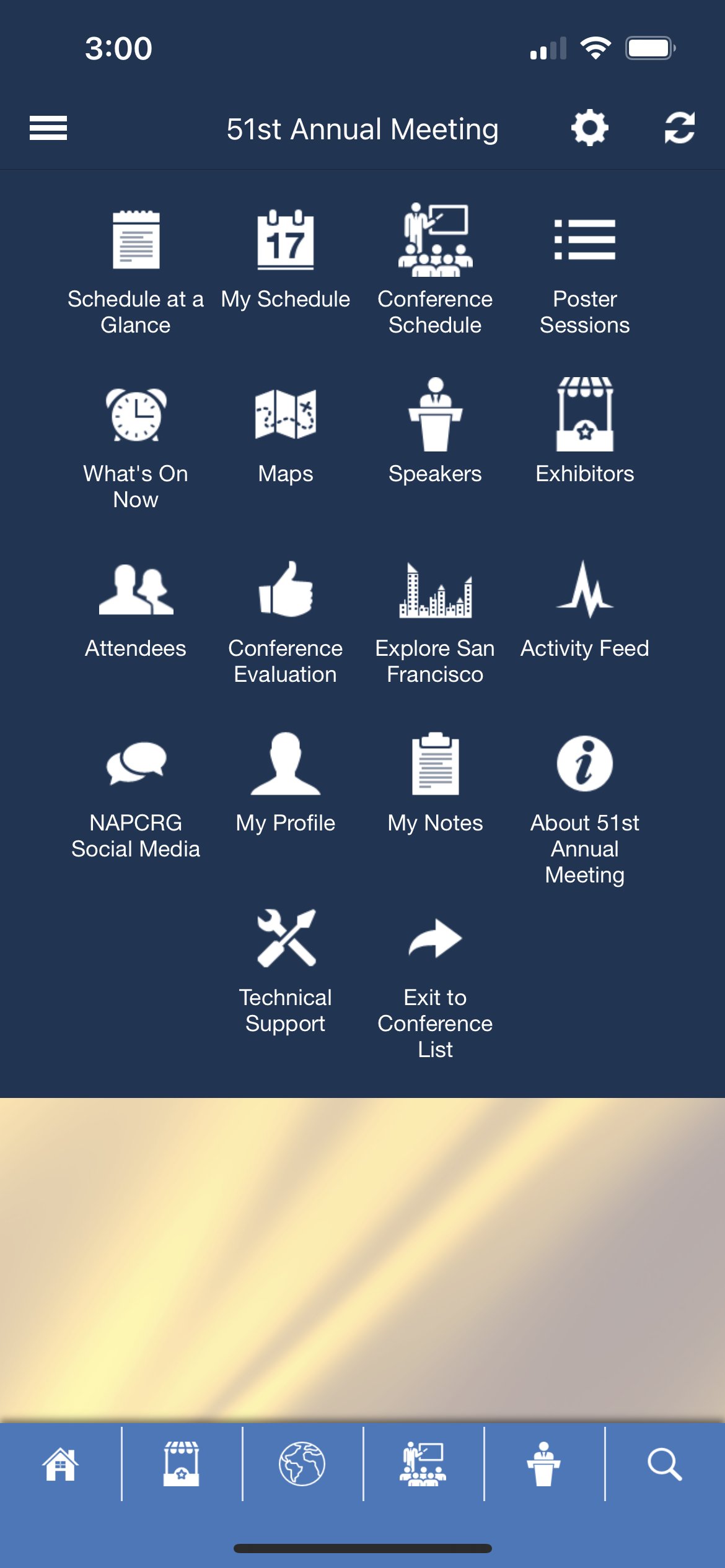 Using the App - No Login Required:
When you first open the app, you will be taken to the home screen where a series of brief tutorials will pop up to explain the key features of the app. This will happen with each icon or menu you go into to introduce you to features or settings inside that menu.
From the home screen you will be able to view:
Your schedule
Events/Sessions
Speakers
Other attendees who make their profiles public
Partners/Sponsors
Maps of the Event
Conference Evaluation
Local places around the event
Just click on any of these icons and you will be taken to their respective menus where you can browse the features within.
---
Your Schedule:
You can set up your schedule by clicking on the "Conference Schedule" icon on the home screen.
This will take you to a list of events/sessions broken down by time and the day they happen. Click on the day you want in the bar at the top and that day's sessions will appear.
Next to these events you will see a "Star" icon. Click this "Star" icon and it will mark that event in your schedule, which you can view from the "My Schedule" icon on the home screen.
The app will then notify you of the upcoming events that you have marked.
---
Your Profile
You can set up your profile in the app by clicking the "My Profile" icon on the home screen.
This will allow you to add your name, email address, profile picture and other details.
If you wish you can also make your profile public so that other attendees can connect with you and request private meetings.
---
App Tutorials
Download a slideshow with screen shots of the app to help you navigate the conference
And check out a video tutorial on how to get started with the app:
---
Questions about the app?
Reach out to Ray Jonscher at rjonscher@stfm.org